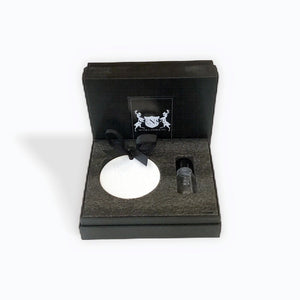 Looking to infuse a small space with a sophisticated scent for weeks on end? Sense's Fragrance Medallions do just that. 
Our Fragrance Medallions are minimalistic, elegant, and easy to place just about anywhere. 
Handmade with care, each small, porcelain medallion includes 10 ml of your choice of our signature fragrances. Hang one in your car, closet, bathroom, or anywhere an irresistible aroma is needed.  Gift boxed with a black grosgrain ribbon for hanging.
Enjoy a constant diffusion of your favorite fragrance for as long as two months. Once the scent has dissipated, you can easily reload your medallion.  
Sense's unique scents are developed in-house and boast concentrated, complex blends of essential oils from premium botanicals and high-quality ingredients. Every scent features distinctive top, heart, and base notes that diffuse evenly and consistently in small spaces without overpowering.   
Impress your guests and cultivate a charming ambiance in your home with one of our Fragrance Medallions today.